"I'd never played on anything like that. But I'd been thrown in the mix with a lot of heavy-duty bluegrass players, so you couldn't really scare me with anything."
So said Wayne Perkins, when asked to play on a then-unheard-of new style of music: reggae. Perkins, who turns 70 next year, is a guitarist whose body of work ranges from lead guitar on the first Island Records release by Bob Marely and the Wailers to the memorable solo on "Hand of Fate" by the Rolling Stones – a group he very nearly joined. Add in dozens and dozens of sessions with an incredible array of musicians that includes the Everly Brothers, Lynyrd Skynyrd, and Joni Mitchell, and you have a guy who swims well in any musical waters.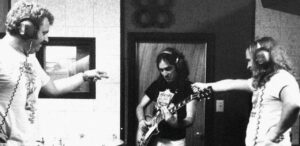 In the photo above, Wayne Perkins (center) is in a session with Ronnie Van Zant of Lynyrd Skynyrd (right) at Muscle Shoals Sound Studio in Alabama, with fellow guitarist, producer, and founder of the famed studio, Jimmy Johnson (left). Below, Perkins and Leon Russell find amusement on the road, somewhere in the 1970s.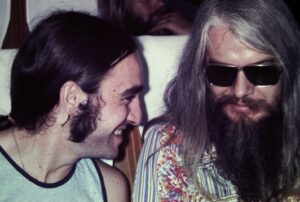 Obviously, Perkins is one of rock and roll's unsung heroes – one of those musicians who made contributions that will stand the test of time, but one who never achieved stardom. I was fortunate to see him several times in the 1970s, playing with Joe Cocker and Leon Russell.
I found a cool article on the Alabama dot com website that provides some great info on a guy more people should know about – and a player they've probably heard even if they didn't know it was him.
https://www.al.com/entertainment/2017/10/rolling_stones_bob_marley.html